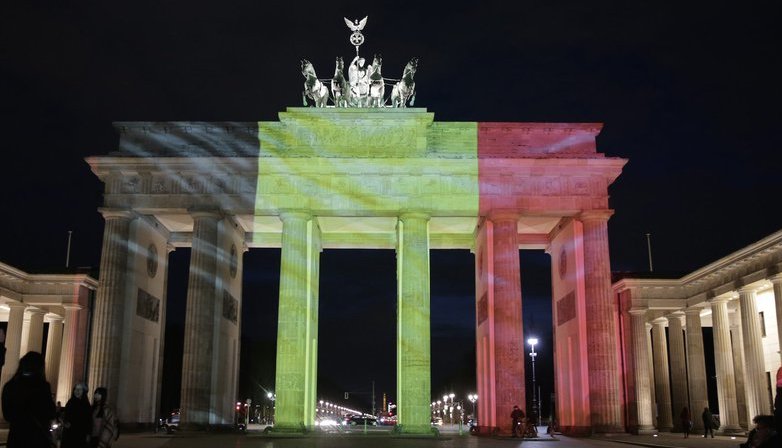 Usually this time of year I write about Glühwein and Christmas markets and fur boots and pocket warmers.  This year is completely different.
Puh.
I feel like all the breath has gone out of me.
A seemingly clear terrorist attack in Berlin. 12 people dead, nearly 50 injured. Breitscheidplatz Christmas market near Zoo station. The police hunting a clear suspect. A city in mourning. Where do we go from here?
The last couple of days have been a rollercoaster ride. Firstly letting friends and family know I'm safe. Then checking to make sure friends and colleagues are safe. Then sitting dumbfounded staring at my computer screen for hours, trying to reconcile that it has finally happened. Here. On my doorstep. Then going in to my son who is asleep, blissfully unaware of what has happened, and laying down beside him in the darkness.
We all knew it was coming. After Paris everyone in Berlin knew it was only a matter of time. I can just be grateful it wasn't worse than it was. It could have been many more dead. It could have been much more damage. Breathe. In and out. We are safe.
BACKSTORY…
Working in tourism, heading out on a daily basis to lead private guided tours in Berlin, I am constantly confronted with issues of public safety. The possibilty of an attack like this has been with us for some time now. And at times like these we are flooded with emotion and feel often overwhelmed by these seemingly random events that are out of our hands and feel very much at the mercy of the attackers. But when this happens to me I take a deep breath and make myself face reality. And that calms me.
Because objective reality tells me I am far more likely to die in a car accident than I am in such an attack. Or falling out of bed (not joking). Or slipping in the bath. I have a far higher chance of being diagnosed with breast cancer in 2017 than of falling victim to a terrorist attack.  Wherever they happen these terrorist events are awful. They are horrific. And they very publicly remind us of our vulnerability and our own mortality. But both accidental gun shootings and car accidents claim radically more lives back home every year than this (hopefully) one off attack in Berlin.
Refugees in Germany
I remind myself that out of the 900,000 refugees who came to Germany last year, 899,950 of them are in dire need of our help and compassion. They are learning the language and want to work. They are ordinary people who simply want to escape a horrific war not of their making. They are not the enemy, indeed, they are trying to get as far away from these IS attackers as possible, that's why they are here. And indeed, they can even help identitfy them (a wanna-be terrorist attack was foiled earlier this year by 3 refugees who recognised the guy and invited him over to their place only to overpower him, tie him up and call the police http://www.thelocal.de/20161010/german-police-arrest-syrian-bomb-plot-suspect).
I refuse to capitulate to the populist thought machine that seeks simplistic solutions in complex times. I remain engaged in discussion and problem solving to find something which works for everyone. As someone I know posted on social media today –
"When a Christian commits a crime I do not denounce all Christians. When a refugee commits a crime I do not denounce all refugees. When a man commits a crime I do not denounce all men. Put simply regardless of who committed this crime I refuse to make a broad indictment of any one group for the despicable act of this clearly disturbed individual." I can only agree and be thankful for people who manage to find better words than I'm able to in this moment.
Remembrance and moving on…
So I light my candle for the victims and their families, giving thanks that me and mine are safe tonight. And I keep breathing. And I keep living. Not in fear, but in joy. I do my best to preserve my compassion and to not fall victim to an 'us and them' mentality which is divisive and only serves to destroy, rather than build social cohesion. And social cohesion is something which we desperately need at the moment in order to draw strength from our diversity. Berlin has always been a city where all are welcomed, especially those on the fringes. I will do my small part to help it remain that way.