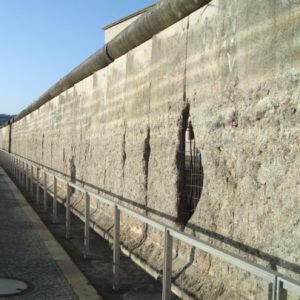 For 45 years Berlin was a divided city. For 28 of those years a wall defined not just the political ideology of an era, but the lives of those who lived in this unique place.
Hear how the paranoia of the East german government led to the Stasi (secret police) becoming the largest employer in the country (not to mention the largest spy organisation the world has ever seen).
Families and lovers torn apart, desperate escape attempts (some with tragic consequences), tunnels built and discovered, and some surreal truths which are stranger than fiction. Tank stand offs, double agents, old guard towers, the death strip, ghost train stations – these things sound like a James Bond film these days, but it was real life on the streets of Berlin only 25 years ago.
The fall of the Berlin Wall was one of the most defining and inspiring events in modern human history and is still extremely present in people's lives here in modern Berlin.
Come and explore the remains of the divided city – the war may have been a cold one, but Berlin was still very much a battleground.