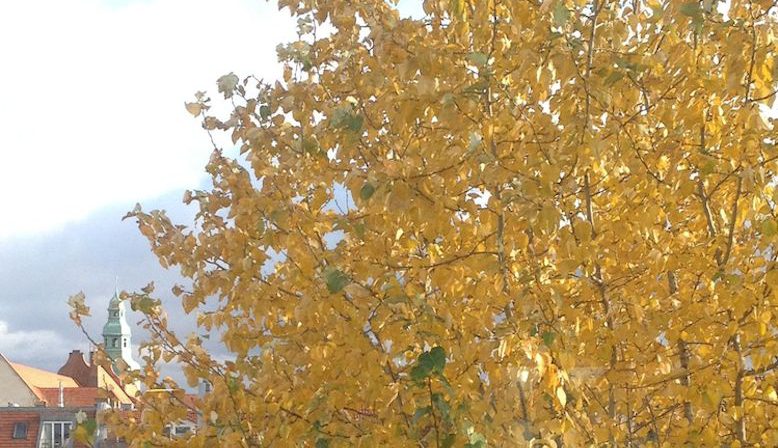 Summer is over, and the quieter season begins.  So curl up on the couch with some reading, grab a cup of tea and enjoy the colder months. So, the summer is officially over. I mean, technically the summer ended ages ago, but we had such a glorious September this year it was basically summer until October rolled around. And of course, working in the tourism industry as I do, my season really finishes mid-October. Which this year we marked with a well earned holiday in the sun in Croatia for a week. And coming back to Berlin the skies were grey, it was cold and blowy, half the plants on the balcony were already dead and the rest were well on the way to whatever functions as plant heaven.
And to be honest, November is a tough month for me in Berlin. It starts getting colder and greyer and rainier by the day and I know I'm looking down the barrel of another 5 months long winter, which even after all these years pains my sunloving Australian soul somewhat.
But today something happened which reminded me what there is to love about Fall in Berlin.
The sun came out.
Something which sounds so simple can make a gigantic difference in mood. Suddenly the yellow leaves by my balcony were bathed in a golden glow. Sun streamed in through the (OK, dirty) windows and suddenly winter didn't seem so much of a threat anymore. So I starting making a list of all the things I enjoy about the slower season in Berlin.
What I love in Autumn in Berlin
Number one. Those last dying colours are amazing. Golds, reds, and the last hint of green as the leaves get tussled and blown in the wind. Treasuring these last days of colour, the last trace of a summer just passed, reminds me that if I am to go down, I want to go down in a blaze of colour like the leaves!
Number two. Slowing down. Today I had time to write my journal. And do 5 months worth of filing. And prepare quotes. And to even write a couple of personal emails – all these things I struggle to do in the midst of high season. I even managed a small nap! Summer can be a huge rush (also in a good way), but I love this slowing down. The rest after the busy-ness.
Number three. Research. One thing I love about this job is I'm always learning new things. Today I wrote a list of all the things I want to research or read over the winter. I'm so busy over summer I barely have time to scratch myself, so I look forward to having more time to read and research and visit quirky lesser known parts of the city.
And then there's more…
Number four. Spring cleaning in Autumn. I know we call it Spring cleaning, but for me it should be Autumn cleaning. With more time on my hands I tend to also make a list of all the things I want to change, update or clean out at home. The Basement. My overflowing clothes drawers. My son's crazy broken toy collection. You get the drift. Clensing, throwing out. Maybe I even get round to cleaning those windows 🙂
Number five. Evaluating and visioning. Looking backwards in order to look forwards. Now, we all know tax is boring. I don't think I know anyone who actually LIKES doing their taxes. But it's a great chance to look back over the year and appreciate how the business keeps growing, and from there to make decisions about the future. This year for example I'm re-doing the website – stay tuned. How exciting! Planning for a small sabbatical, growing and expanding the business, offering new tours next year, digital tour options, expanding our exclusive partners – all this is super exciting work I just don't have time for in the summer.
Number six. Culture! A lot of Berlin's main cultural highlights are on hiatus over summer. And in September and October I'm often too busy still to enjoy them much. But in November, I get back out amongst it to savour Berlin's rich cultural scene. Whether it's a special exhibit at the Gemäldergallerie or a fabulous musician at the Tempodrom I really enjoy all that Berlin has to offer in the colder months. From Burlesque to Baroque, the Philharmonic to Fairytale cocktail bars, Berlin has it all.
So if you thought a visit to Berlin was only worth it in the summer, think again. There are Christmas markets, amazing cultural events, exhibitions, lectures, whatever you want we can find it here in Berlin. We might move indoors in the colder weather, but we don't stop engaging on all levels!