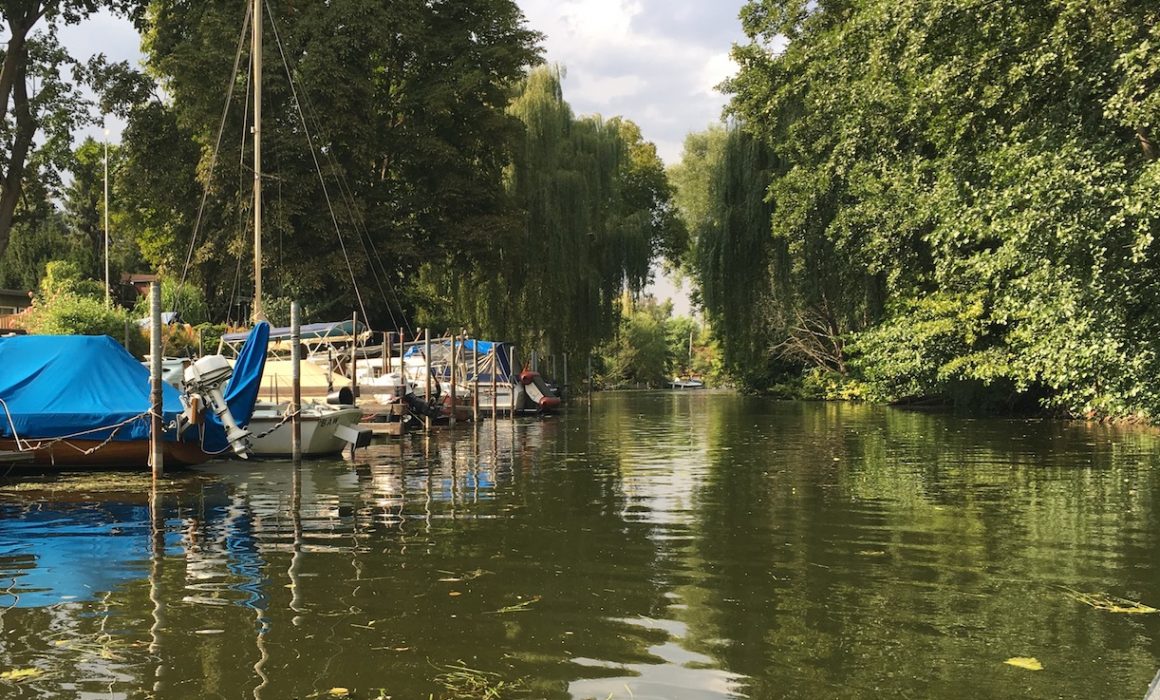 Fun tour guide fact:
Berlin has more bridges than Venice. It's true. Berlin has a huge network of canals dating back to the pre-train era when the easiest way to shift goods was by barge. Even Queen Sophie Charlotte preferred to take a private boat into Berlin from her summer palace in Charlottenburg rather than endure cobblestones in a carriage. Nd whilst there are many generic style boat cruises on offer in Berlin, a much better way for the adventurous is to hire a canoe and paddle yourself around. If you have the energy (and the armpower) you can actually paddle all the way to Potsdam.
It is a hot summer this year. The longest, hottest and driest on record so far. So what better way to while away a hot afternoon that on the water? My family and I drove west to where we could pick up our Canadian style family canoe. 5 mins later we were paddling through what is easily one of the most picturesque waterways on option in Berlin known as Kleine Venedig – Little Venice.
Tree branches dipped into the water as we wound our way through the tiny canals of one of Berlins most sought after Kleingarten Kolonien (small garden colonies). Living in apartments means most people don't have access to their own garden, and so these allotment gardens are in high demand. And the Little Venice colony, having water access from almost all gardens is one of the most special you can find.
Looping around we then cut through to a larger waterway, where power boats raced past and the occasional barge drifted by like a large, man made whale. The canal opened into a river – the Havel which actually becomes the Wannsee lake – and the canoeing became more challenging in more open water. We paddled to a small beach and cooled off with a glorious swim before heading to the little restaurant near the beach where you can actually pull up and moor your canoe before climbing directly up to their terrace. Fortified with Flammkuchen (think German pizza) we headed past he moored motor-yachts and began the paddle back.
Driving back home we were all tired and smiling. If you visit Berlin in summer and you have a spare day, you should seriously consider getting out on the water in some way shape or form. You'll never see Berlin the same way again.