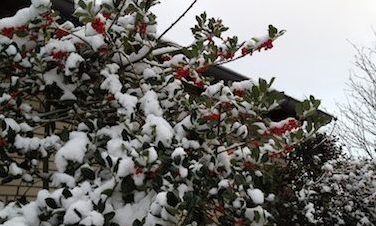 The last month it has finally begun to get cold here in Berlin. After the longest and hottest summer on record it somehow felt like winter would never come.  But now, finally winter is on it's way.  It's still relatively warn actually – about 10 degrees and rainy.  For those of you who live in warm climates that may sound cold, but trust me, every year Berlin usually has a cold snap where temperatures plummet to MINUS 10 degrees, and sometimes even lower.
And while these kinds of temperatures mean less people visit this wonderful city in winter, it is also a unique and special time to be here. Today, sitting at home on a rainy Sunday, writing this from my couch, I was reminded of a glorious winter memory from about 7 years ago.  It is one of my all time favourite memories of this city and was my first real introduction to the wonderful possibilities which winter brings.
It was a cold frozen Sunday, a glorious 'big freeze' day with pale clear sunlight and blue blue sky. My partner and I and our 2 yr old son wanted to get out the house, so decided to meet a friend and go for a walk in Treptower Park – a massive park in former East Berlin, right on the edge of the river Spree.
We rugged up in our thermals, waterproof boots, wool layers and down jackets, bundled my son into his lambswool lined pram, and took off on the (heated) train. After 15 minutes we were in a winter wonderland. Tramping through the snow, we watched ducks navigate their way through frozen ice slabs on the river, whole flocks of gulls launching themselves into the air as joggers puffed past with ice in their beards. We set a comfortable pace, but fast enough to keep ourselves warm in the low temperatures. We were heading for a cove, a part of the river hidden by a peninsular of land that you wouldn't know existed if you didn't know it was there. We knew by now it would be frozen over, and we would be able to do that special thing of walking on a frozen river. My son, snug as a bug in a rug, fell asleep in his pram.
When we rounded the corner, the scene was quite extraordinary. The Berliners had take to the ice in droves. People were iceskating, or even just clearing sections of the snow to have sliding competitions on the ice. People had cleared makeshift ice hockey rinks, people were playing football on the ice, or simply walking around on this massive, frozen landscape. A few enterprising people had set up little stands to sell warm mulled wine, sausages, and homemade cakes. (The mulled wine was a welcome addition at this point!). When my son awoke, we headed to a nearby restaurant for a light meal – which was buzzing with customers coming in to warm up from the ice). When we headed out again it was late in the afternoon and we were stopped by the sound of music drifting over the ice. Someone had brought out a set of decks, a small generator and speakers and was playing some really fabulous dance music. As we lingered more and more people started bobbing, then dancing to this great music on the ice. My son was entranced, as were we all. The scene was so beautiful – the sun clear and beginning to get low in the sky, blue skies, white snow on a frozen river and a spontaneous dance party on the ice. This was no organised event. There were no licenses required, no applications made or approvals given. This was a spontaneous gathering of Berliners who knew a glorious winters day like this deserves to be celebrated. This for me is part of the unique spirit of Berlin – this spontaneous creativity and ability to think outside the box combined with an active community spirit and a sense of immediacy that comes with living in a city which is reinventing itself every day.
Today, I look out at the grey sky which seems to be constantly crying today.  I never thought I would pray for colder weather, but after more than a decade in this northern city I would take muns ten and sunny over plus 10 and raining any day of the week.  Bring on the winter!