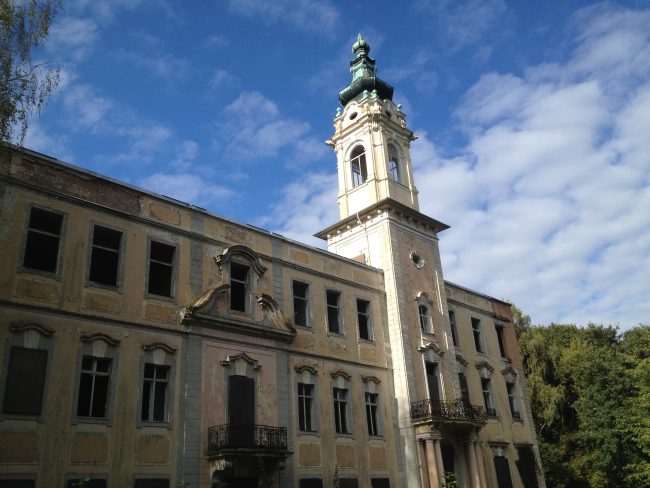 It's the time of year again when the air turns crisp, the leaves begin to yellow and I begin to especially treasure every day of sun and blue skies. Especially after such a rainy summer as this year these clear days which has a final breath of summer warmth on the air are especially not to be wasted. So today I shut the laptop, grabbed my long suffering husband and my phone and headed north of the city into the wilds of Brandenburg. Friends had told us of a pretty little lake with a run down old Schloss (palace) there and it sounded perfect for a short daytrip while the sun was shining and our boy was in school.
A quick 20minute drive and we were in a little village of Summt, turning down a narrow cobblestone laneway ending in a dirt track. Within minutes we felt miles away from the city with shafts of yellow light streaming through the trees and the glimmer of water telling us we were almost at the lake. We walked, we wandered, we meandered. We sat on some convenient benches and closed our eyes, soaking in the quiet as much as the sun. in the 5 hours or thereabouts we spent in the area I think we saw 4 people. 3 were with dogs and one was (strangely enough) poling a home made raft across the lake. The old palace itself was a grand sight. Paint peeling and with metal shutters on all the (clearly broken) windows this old lady was obviously once a glorious forest home for the aristocrats who built her. Indeed, the late Roccoco style pleased the wife of Frederich the Great so much that she was a frequent guest at this small palace on the lake. It then passed through several families before it's owner needed to flee Nazi Germany because of his Jewish wife and it became the property of one Heinrich Himmler. During the DDR times it was used by the Ministry for Staatssicherheit (otherwise known as the Stasi) as a Hunting Lodge for the privileged few. And only since reunification was it returned to the family of it's pre-war owners.
Now she lies empty – a citizens initiative tried to rejuvenate the place for a few years in the early 2000's but with little success and eventually went broke. Oh to have a couple of million dollars spare to renovate her and restore her to her former glory! It would be a wonderful place for weddings and other grand events. I can see clearly the potential of this place with a little love (and a lot of money). But alas, on my humble tour guide wage this will remain simply a vision and not a reality! However on the way home whilst checking the history of the building it seems someone has indeed had the same vision as I did – as soon as building permission is granted renovations will begin and it will open as a hotel and wedding venue. I hope and pray they get it right this time – perhaps we'll be able to celebrate our 15yrs of marriage here! Fingers crossed.