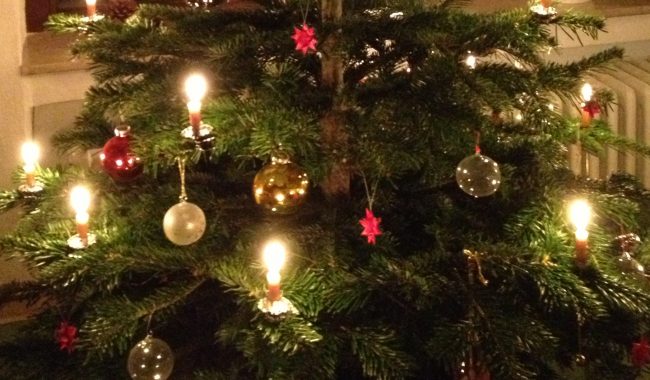 Christmas in Berlin
So, finally back from a mammoth 6 week trip to Australia – 4 cities in 6 weeks staying in 7 houses. Wow. Many dear old friends, some beach time and lots of great food. After 6 weeks on the road I was ready to come home to Berlin – to spread myself beyond a suitcase or a single room, to see dear friends here again, and – strangely enough – ready for some colder weather. We timed it beautifully coming back into the best bit of winter in Berlin – Christmas. The streets are aglow with thousands of fairy lights, Christmas markets pop up all over the place, and the smell of roasting chestnuts and glühwein fills the air.
There is something which just feels RIGHT about a cold Christmas. Growing up in Australia, Christmas day was always blindingly hot – these days most people spend it either on the beach, or inside with air-con, drinking a chilled sparking red and eating cold prawns and other seafood yummy-ness. But when I was a kid (and having a British mother) we did the whole English thing. We cranked up the air conditioning while Mum slaved for hours over an enormous roast Turkey and Grandma Nan made mince pies and spent – literally – weeks preparing the cake (rubbing with Brandy every week, re-wrap and store) which I would then gleefully decorate with marzipan, white fondant and gorgeous little Christmas decoartions which had survived moving countless times across two continents. We even bought spray snow to make the windows look foggy… All the cards had Santa in dressed in fur and we sang songs about Frosty the Snowman and Good King Wenceslas and drew pictures of melting candles.
So flip back to present day in Germany and I repeat: Christmas here makes SENSE. All those images and dreamings from my childhood have meaning here. Here it is cold, very cold and sometimes snowy. It is dark – really dark by 4pm. Candles make sense. Fur boots make sense (I have a pair now). Glühwein (warm, mulled wine) makes really sense to warm you up when you're drifting through the markets when I'm guiding people on a winter Berlin tour.
I remember the first time I spent Christmas with my husband's family. I was astonished when he told me they would have real candles on the Christmas tree. I thought – how does the house not burn down??? In Australia I thought the idea of the European Christmas on the 24th was bizarre – what do you mean you don't wake up to Christmas morning and a stocking? But I have to say after nearly a decade in Germany I am now I am a complete convert to the traditional German Christmas. Or at least Christmas in my husband's family. There is carol singing, candles, champagne, gifts and fabulous food.
Decorating the tree is serious business and something which I love. Simple clear glass balls, straw decorations that my mother in law made herself when she was a teenager, and red candles in brass candle holders which hang on the branches with a simple counter weight system. No gaudy tinsel. No electric lights. No glitz. Simple and elegant, the tree is the absolute centrepiece of our Christmas celebrations. The children are ushered out of the room while we light the candles and the presents are retrieved from their hiding places. Then, in silence, the door opens and the children stand there, eyes glowing with the same fire as the candles, mouths open with the wonder of this magnificent spectacle and to be honest – I'm a little in awe myself. Maybe we could have a Christmas tree every day of the year. Or at least every day of the winter. But then it wouldn't be as special, would it?
Wishing you and yours a wonderful festive season.