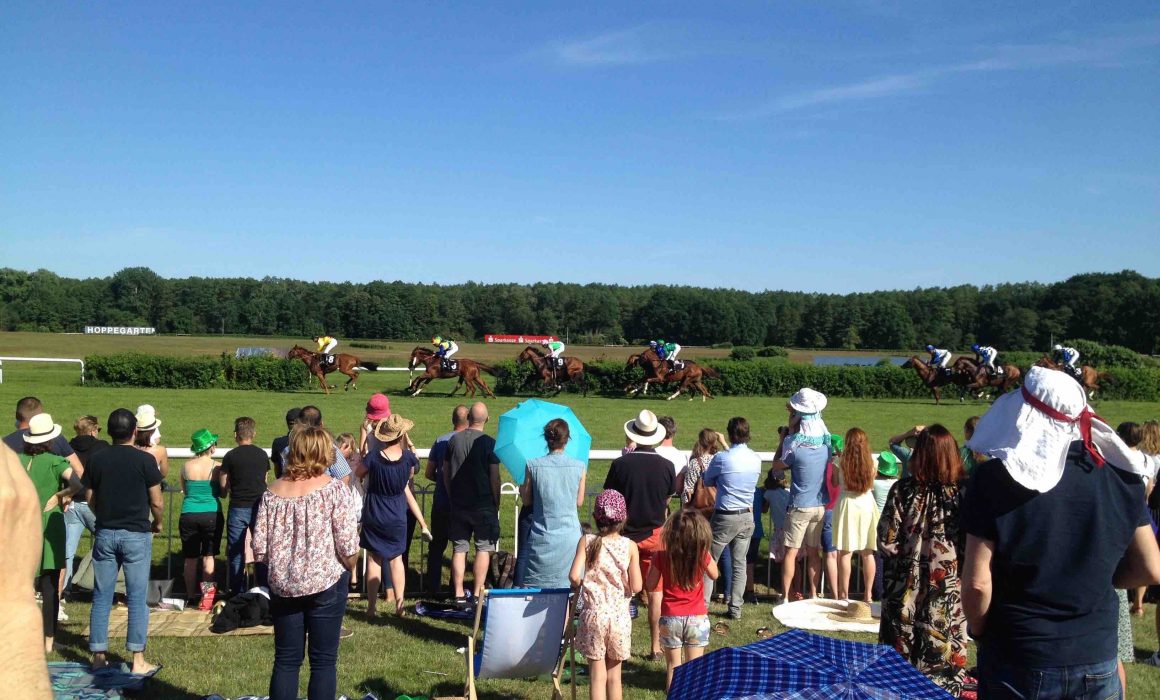 There's a kids nursery rhyme in German which says " Hoppe hoppe Reiter, wenn er fällt den schreit er, Fällt er in dem Graben, Fressen ihm den Raben, Fällt er in den Sumpf, Macht der Reiter Plumps!"
This means: "Hop hop rider, when he falls he screams, if he falls in the holes the crows will eat him, if he falls in the marsh then he goes Plop!"
I thought of this the other day when I went to the horse races at Berlin's racecourse, which is appropriately named "Hoppegarten" – the Hopping Garden. Where the horses hop (or rather gallop) around while we onlookers excitedly strain to see if our chosen chariot has crossed the line first.
If you're here through the summer in Berlin and have a Sunday to spare, then it is well worth checking the schedule to see if you can catch a racing afternoon at Hoppegarten. Well off the tourist track it is worth the effort to get there (easy to reach on the S-bahn with a short walk) to enjoy an afternoon with Berliners of all creeds and colours, to picnic on the grass and perhaps make a friendly wager or two.
Dating back to the old imperial days, Hoppegarten first opened it's doors back in 1868, three years before Germany even became a country, under the King of Prussia, soon to become Kaiser Wilhelm the 1st. It soon became one of the premier racecourses in Europe, hosting some of the biggest races on the continent with over 40 stables and 800 horses in training.
Of course during the war it came to a grinding halt and during the DDR times it never really recovered. Slowly the bigger races moved to western Europe and Hoppegarten lost significance, but it still hosted 22 races a year and 8 times it hosted the International Meeting of Socialist Countries.
After Reunification in 1990 it reopened to great euphoria, only to slowly stagnate once more, in part due to lack of investment and lack of clarity over who really owned the property (it had been taken over by the East German government in the communist period). However in the early 2000's this was clarified, only to have the official owners go broke in 2005. Fortunately, a German investment banker living in London called Gerhard Schöningh bought the racecourse and undertook the not insignificant task of renovating and upgrading the facility.
I first visited Hoppegarten with horse mad friends in 2011. It was a fabulous day out, with pony rides for the kids, cheap bratwurst and you could picnic on the grass right in front of the finish line. There was a bouncy castle, a playground for kiddies, yummy quarkbällchen (think the holes of doughnuts being fried) and the kiddies could run amok in safety while we sipped red wine and ate cheeses in between races. We have been back regularly every year since. My son even had the chance to ride a mechanical horse usually used in training and was told he was a natural jockey 🙂
Since then I have seen more and more people flocking to Hoppegarten. Now the grass is much more crowded and you're not allowed to picnic right in front of the finish line. Pony rides are super expensive and the bouncy castle is no more. But there is still bratwurst and red wine, friendly wagers and the excitement of picking your horse. Watching them prance in the ring before the race, reading the statistics, choosing the name you like best and cheering your horse on.
Like many things in Berlin, it has become more and more popular and has developed past it's initial promise into a very successful business venture for Herr Schöningh. But unlike other sites in Berlin it is not created for tourists. Not at all. You hear very little English spoken here. This is a place for Berliners. And even though it's busier and more expensive than it was 7 years ago, I still think it's one of the best afternoons you can have on a sunny summers Sunday. So take a chance and get away from the inner city for a true taste of Berlin summer!