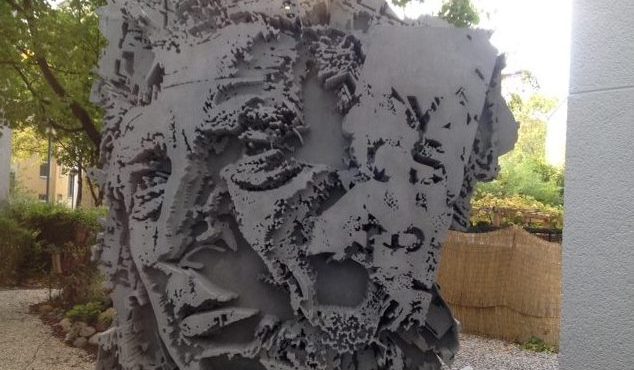 So in September, a new space opened in Berlin, called Urban Nation. They call themselves a Museum of Urban Contemporary Art and have had a long and labyrinthian journey to opening. In some ways the journey of this art/museum space mirrors that of street/urban art in Berlin itself – long, winding, and ever changing.
Street art (or as some call it, Graffiti) used to be a reflection of Berlin
In my humble opinion. It was grungy, underground, surprising, playful, in-your-face, unapologetic, sometimes profoundly beautiful, often political and always site specific. There were often recurring themes and characters created by artists which would pop up in unexpected places, commenting on various political situations, like irreverent friends of friends you would bump into on the street every now and then. And somehow street art became part of Berlins identity, meaning of course, more and more artists would come and leave their stamp somewhere in the city, adding to the colourful kaleidescope of artworks big and small.
Ten years ago Berlin held its first street art festival
Many international artists were invited to make some huge murals around the city, including well known names such as Victor Ash and Blu (who made waves three years ago by painting over his artwork as he didn't want his art to contribute to the gentrification in the Kreuzberg area). Since then street art in Berlin has gone through a major makeover. Now most of the large murals throughout the city are commissioned by Gewobag – one of the major Housing companies who own literally tens of thousands of apartment blocks in the city. Companies such as Red Bull, Nike and Levy Jeans have used street art murals in their corporate ad campaigns. You can do street art tours in massive groups, and even order images from your favourite street artists online. And this year, the first ever 'museum' dedicated to street art. Or as they more aptly name it – Urban Contemporary Art.
Several friends had told me it was great, very well curated and I turned up very inspired and very curious for my first visit. One thing that struck me upon entering was it is free. No entrance cost. Fantastic, I thought, that is one advantage of having a big brother sponsor like Gewobag. However, my reaction to the space was a little… confused. I guess I had expected something different. For starters, calling itself a museum I expected to see some kind of historical context, talking about the origins of Graffiti, the difference to Street Art and how that evolved, it's connection to the Hip Hop culture, urban poverty etc etc. Nothing. A couple of panels scattered throughout the exhibit only addresses various traditional artistic categories such as portraiture, conceptual art, pop art etc. Ad somehow I had expected the commissioned artists (because they were usually actively commissioned) to be invited to actually work within the space – Street Art is of course, highly site specific (a bit like at Teufelsberg). But it wasn't. No paint on the walls whatsoever.  The artists had simply done their work on rather traditional canvasses (apart from a couple who worked on wood, or cardboard etc). But most were simple canvasses, framed in white, and nicely lit.
For me, this caused a bit of cognitive dissonance…
Things which I am well aware would have looked remarkable at 5 times their size painted on the side of a building, looked somehow puny and overblown all at once when squished into a 6′ x 4′ frame on a white wall. Artistic styles which have developed to be amazingly effective seen from far away (like the blasted off portraits of Vhils for example) look somehow shoddy and haggard up close. Taken out of their natural urban environments and hung on a gallery wall, these artworks felt to me to be very much like a square peg jammed into a round hole. And when you take the 'site' out of site specific work, what is left? Roa's chameleon, cleverly worked into folding wooden boards so you can see his signature 'inside out' animals was a lovely art work, but I much prefer his rats running up the side of the building in Prenzlauerberg, or the confrontational dead animals hung from the apartment block at Manteufelstrasse in Kreuzberg. Seeing this little chameleon at Urban Nation was like seeing a butterfly pinned in a book compared to a buffalo roaming free.
Interestingly, I noticed that some of the most prolific and admired artists in Berlin were not represented.
In fact most of the artists (although many now have works also in Berlin), were international. Countries like Italy, Spain, Netherlands, UK, Brasil, Poland, France, even Australia were there. But names like El Bocho, MTO, Alias, Plotbot, Kripoe CBS, Mein Lieber Prost which litter the streets of Berlin and have been around long before Street Art became popular or profitable – they were conspicuously absent. Which I found rather disappointing. But perhaps they had been asked and had refused, who knows? Certainly some street artists wouldn't want their work to be represented in such a gallery, and I can really understand that.
That being said, it wasn't all bad. In fact, it wasn't bad at all. It simply made me think. About context. Taking art out of context means you lose something really fundamental to its essence. About the crossover of art, subculture, commercialism, moneymaking, artistic integrity versus paying the rent. About acknowledgment. About both cultural and artistic appropriation. Many thoughts. To me there is something disturbing about taking this art out of its usual context. Like people who chisel a Banksy off the wall to sell it at auction to hang in a rich persons house, it feels somehow… deadening. Like looking at something lifeless rather than living and breathing.
My recommendation?
Perhaps spend half an hour at the Museum, wandering through the rooms, see what they have on offer (yes, including the small and probably extremely expensive Banksy on display). But if you really want to see the real deal, you have to hit the streets. You have to see the murals on the sides of buildings which span 6 stories high. You have to see the portrait from across the river. You need to peer into the corner of an alleyway to find the minute figurine. Hunt through the neighbourhoods to find that elusive last Evol fuse box painted to look like miniature Plattenbau. If you don't know where to go, take a local, experienced private guide. Put in the legwork. Then you'll be rewarded with much more than 6′ x 4′ brightly lit frames and a butterfly pinned to a board.  Just my thoughts of course.