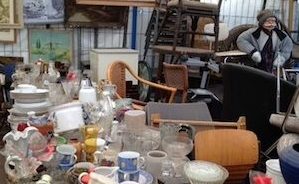 A rare Sunday. A day off in summer, and all to myself without family or other obligations. The day stretched out ahead of me like an invitation. It was a glorious Berlin summers day, blue skies and warm air and staying at home on the couch seemed like a sin. So I got dressed in my favourite yellow summer dress and went out to wander.
Somehow I ended up at Mauer Park – an old strip of the former deathstrip of the Wall which has now become without a doubt the most popular fleamarket in Berlin. Some people complain that Mauerpark is not what it was.
It is big, yes – about twice the size it used to be – even a private tour guide like myself could get lost here! But that also means there is more variety than ever.
It is crowded, yes – but if you go early (around 11am) then it's not too bad. And as long as you're not rushing, but rather drifting to see what catches your eye then it can be really a pleasure. Yes, there are tourists, but I heard easily as much german as I did other languages. And I heard not just English but Spanish, Swedish, french and something slavic I couldn't identify. I love the diversity here.
I love the mix of old and new. I love that next to the expat selling her handmade retro handbags you have a young turkish girl in a headscarf selling Gozleme, and that next to her is a Berliner speaking thick dialect while she tidies her second hand clothes she's trying to sell. I love that you can get everything here from funky new design stuff to 50's furniture, a belt made out of tire offcuts, a second hand wetsuit or a replacement handle for an old wardrobe.
I love the smell of fresh bratwurst being fried as a young guitarist plays a really good set while I lounge on a deck chair. I love that I found exactly what I wanted – a gorgeous old teapot to replace the one which broke last week. Smiling happily I drifted home past the crowds in my yellow dress thinking how much I love this city in summer.